The Bennelong Foundation
Bangarra Family Office established the Bennelong Foundation in 2002 and the Bennelong Foundation UK in 2020, with the aim to enhance community wellbeing and provide opportunities for positive and lasting change in our community. The Foundation is the driving force of Bangarra Family Office's work, and its reason for being. Its continued success relies upon an ever-evolving understanding of community needs, an innovative approach to tackling our most significant social challenges and the deep passion and commitment that the Bangarra team delivers.
Jeff and Carena's personal philanthropic philosophy and their vision of a culture of caring is reflected across the DNA of the Bennelong Foundation and Bangarra Family Office. The Foundation also provides a platform for people within Bangarra Family Office and Bennelong Community to personally get involved with philanthropic activities by creating opportunities to share their time and wisdom with the Foundation's community partners.
The Bennelong Foundation provides support to a number of organisations and community projects across Australia and the UK, enabling organisations to deliver a broad range of initiatives to support the community in which we live.
Grant Recipients
Listed below is a sample of just some of the organisations supported by the Bennelong Foundation.
Grant Recipient Case Study:
Talent Beyond Boundaries
War and conflict have forced millions of skilled people to find refuge in places where they are unable to work legally. Meanwhile, companies in countries around the globe are experiencing critical skill shortages that hinder their competitiveness and development. Talent Beyond Boundaries is the only organisation in the world connecting refugees to international job opportunities, opening labour mobility as a complementary solution to traditional refugee resettlement programs.
By linking skilled refugees with countries and companies that need their skills, Talent Beyond Boundaries works to connect this often excluded talent pool with employers around the world who are searching for skilled workers.
The pathways that Talent Beyond Boundaries are establishing allow refugees to find stability, and a place for their skills to rebuild their lives, and employers to gain new talent, opening labour mobility as a complementary solution to traditional refugee resettlement while reducing the number of dependents on aid.
The Bennelong Foundation has made a five year strategic commitment to the Skilled Refugee Employment Pathways programme which leverages upon strong government, corporate and community partnerships to create lasting change.
Our Impact by Numbers
700+
Grants Given
360+
Charities Supported
1
Purpose
Our Vision for Reconciliation
At the heart of the Bennelong Foundation and Bangarra Family Office is community and caring.
Since inception the Bennelong Foundation and Bangarra Family Office have had a deep respect for First Nations Peoples, our names inspired to celebrate and recognise strong and bold Aboriginal leadership. In 2019 the Group made a commitment to Aboriginal and Torres Strait Islander Cultural Awareness Training to improve our knowledge and increase our capacity to work safely, respectfully, and effectively with Aboriginal and Torres Strait Islander peoples, families, and communities. We were introduced to the world of Indigenous histories and cultures ways of being, the impacts of colonisation, and the local communities where we work on a deeper level than we had before.
Through this journey we have been moved and inspired, we have learned the importance of truth-telling and acknowledged the shared histories of First Nations Peoples of Australia and other Australians as well as the necessity to heal past and ongoing injustices. It has deepened our commitment to an Australia that embraces unity and a shared vision of the future and opened opportunities for the Group of businesses to participate in the reconciliation journey beyond grant-making.
In 2022, the Bennelong Foundation and Bangarra Family Office decided to make a formal and structured commitment to our vision of reconciliation through the development of our first Reconciliation Action Plan.
Download our Reconciliation Action Plan >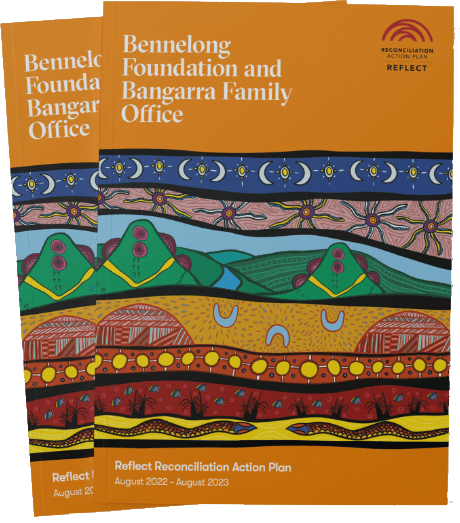 Download our Reconciliation Action Plan >
Sustainability & Community
All of Bangarra Family Office's commercial activities are engaged in various sustainability programmes ranging from the management of ethical investing in the public equity and debt markets to the designing of highly integrated multi-generational living communities. In each of these activities, Bangarra Family Office is conscious of the use not only of economic capital, but also social capital, intellectual capital and human capital and employs a number of data driven techniques to calculate its target and actual returns on these classes of capital.
Bangarra is currently building its approach to developing positive returns for the natural capital upon which we all depend and completing this task is a priority for the Bangarra Family Office.
Carbon Neutral
Bangarra Family Office has partnered with Trace to become a Carbon Neutral Organisation. We measure the carbon emissions of our general office operations, energy usage, suppliers, and travel, and offset those emissions through certified carbon credits and tree planting.
Our carbon credits support a range of hand-picked projects that deliver measurable benefits aligned to the goals of the Paris Agreement and the UN Sustainable Development Goals. These projects include: sustainable savanna burning on the Tiwi Islands, empowering traditional land owners to manage fire risk and boost their native biodiversity; a land conservation partnership with the traditional land owners, the Ngarrindjeri people, in Mount Sandy; and a clean water supply project in Rwanda focusing on restoring and repairing existing boreholes to provide clean drinking water.
Read more about our impact and the projects we are supporting >